Lake Nona, FL — Real solutions in behavioral health depend on bold innovation that supports prevention and diversion. That was the clear message Florida Department of Children and Families Secretary Shevaun Harris delivered during her opening remarks at LSF Health Systems' 2nd Annual Behavioral Health Innovation Summit last month.
"I remember the day I got the call that two of our kids in protective care had gotten into a shootout with deputies in Volusia County," Harris told about 200 gathered April 19 at the GuideWell Innovation Center in Lake Nona. "The incident sparked some important conversations in our agency. The sheriff was saying they were seeing more serious behavioral health challenges. What we created was a pilot that consisted of a multi-disciplinary team. We deployed school staff and others to come together with the entire family to create diversion."
Neglect and substance abuse are the drivers of most cases when DCF removes children from a home, Harris said. "To break the cycle, you have to get to root causes," she said. "We are being more intentional. We want to be at the table, solving problems. We want to be an innovation incubator at DCF. We want to be a place where solutions grow because we focus on prevention and diversion. We are proud to partner with LSF in this. We see them as a shining example of this kind of innovation."
Harris was among dozens of key state decision-makers and national speakers who presented at the two-day summit designed to promote innovation in behavioral health. In topics ranging from criminal offenders and the opioid epidemic to legislative and funding issues, presenters returned time and time again to the importance of innovation in today's environment, said Dr. Christine Cauffield, CEO of LSF Health Systems.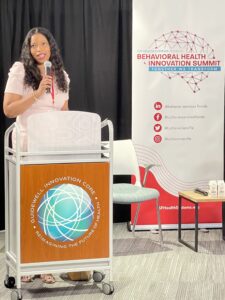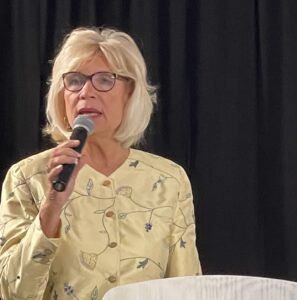 "The challenges we face today in behavioral health are too big to confront with only the solutions that have worked in the past," Cauffield said. "We launched this summit to encourage leaders to share how they're addressing issues never before confronted. The response has been tremendous. What we're learning from our providers will undoubtably save lives."
Author and keynote speaker Nick Kittle reiterated the summit's theme about innovation taking courage. He compared innovation to creating trauma. "Innovation is hard because it requires change," Kittle said. "Mentally, change is trauma. So, innovation is literally creating trauma."
Kittle challenged summit attendees to examine closely what holds them back from innovating, and to embrace new ideas and risk-taking.
"Controversy often creates moments of opportunity, if you lean into it," he said. "Establish the urgency. If we build urgency, we can get into it. If you're not excited about what you're selling, why would anyone else be?"
Other speakers at the event included global fundraising expert Bob Carter, a founding member of the World Health Organization Foundation. On April 20, a panel of the state's top behavioral health funders discussed how they promote and support innovation in the field to remove systemic barriers and improve timely access to evidence-based care. Another panel of recovery peer specialists and leaders highlighted innovative ways that peers are making a difference in the state funded system of care.. A full list of presenters and speakers is available online here.
Funding for the event came from sponsors including the Florida Department of Children and Families, Humana, Humana Healthy Horizons in Florida, the Here4YOUth Initiative of Charles & Margery Barancik Foundation and Gulf Coast Community Foundation, Nona Scientific Laboratory, and Health-Tech Consultants.