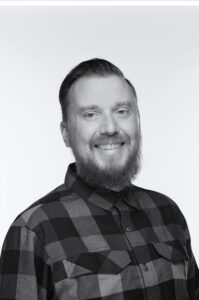 He was only 13 when he started using drugs. By the time Eric Davis got to high school, he was using every day.
"I was self-medicating the symptoms of schizophrenia," said Eric, now 40, recognizing his co-occurring conditions that went untreated for years, leading to untold traumas. In his mid-20s he found himself addicted to drugs, unemployed and living a life without meaning.
"I never had a job, filed taxes, opened a bank account, or lived in my own place … I was Baker Acted at least 20 times. I didn't think I would live to see 30."
When Eric's son Charter was born in 2013, Eric was struggling to find a path to recovery. His son was in the neo-natal intensive care unit for some time, and when Eric went to visit he was high. He loved his child and wanted to show up for him, but "I had no ability to live without the use of drugs."
In 2016, Eric decided to change his life and ask for help. He tapped into his strengths of determination and curiosity about life. After becoming an active member of a 12-step fellowship and living more than a year free from drugs and alcohol, Eric enrolled in the Certified Recovery Peer Specialist
(CRPS)
training program that LSF Health Systems had launched at Jacksonville University
(JU)
to place individuals with lived experience like Eric's into the behavioral health workforce. He drove from Gainesville to Jacksonville two days a week over 14 weeks during the spring and summer of 2017. It was at JU where Eric met another CRPS individual with lived experience in recovery, class co-facilitator Bryan Mingle, who was working as an LSFHS Quality Improvement Specialist. Bryan followed Eric's journey as he passed the state exam to become a Certified Recovery Peer Specialist.
"Bryan has been an advocate and mentor of sorts. He was there as I landed a job at a homeless shelter and worked my way up the ranks."
"Eric defines what it means to be in recovery," says Bryan, " because he set goals and took the action to realize his full potential. Today he is living a life created from his own dream. He has an amazing heart filled with compassion to help the most vulnerable; I am elated to see him thrive and to call him a friend and community partner."
Eric earned the "Employee of the Month" award a few months into his time at the Gainesville homeless resource center, and was eventually promoted to Housing Locator and Diversion Specialist. After four years at the shelter, he became the Director of Housing at another Gainesville social service agency and has held that position for nearly a year. In the last year he has also partnered with social-minded entrepreneurs to create affordable housing to the most vulnerable.
Eric worked hard to turn his life around. Partnering with his mentors at LSF Health Systems changed everything: Today, Eric shares custody with his son's mother and drives a car that he's paid for with his own salary. Through practicing a program of recovery (with "service to others" as a main tenet), he continues to live a drug-free life. In April, Eric will celebrate seven years of sustained remission of his co-occurring diagnosis.
Eric is a Gainesville resident who was part of LSF Health Systems' Helping Others Heal Certified Recovery Peer Specialist training, which continues in an expanded format today under the auspices of the federal Health Resources and Services Administration.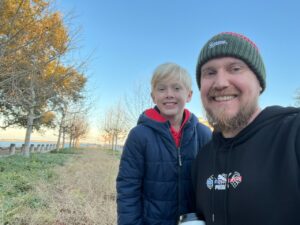 If you would like to learn about how you can help those in need of recovery, please find our CRPS training offerings on the LSF Health Systems(LSFHS) Training Menu @ https://www.lsfhealthsystems.org/training-menu/. If you are personally seeking assistance for substance use and/or mental health conditions and/or housing, please call the LSFHS Access to Care Line at 877-229-9098.