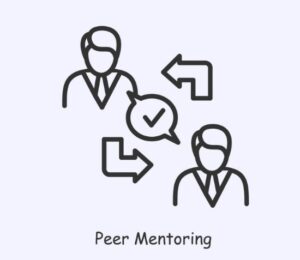 Through our Training Institute, as well as various grant awards, LSF Health Systems (LSFHS) is making great strides in the Health Resources and Services Administration's (HRSA) mission to increase the number of paraprofessionals needed to assist individuals facing substance use and mental health challenges. Since 2015, LSFHS has focused on training Recovery Peer Support Specialists through our Certified Recovery Peer Support (CRPS) Training Program, funded through the Florida Department of Children and Families and two HRSA Behavioral Health Workforce Education and Training (BHWET) grants that LSFHS was awarded. Through the program, LSFHS has successfully trained more than 200 peers. Through the nationwide recovery worker movement, as well as Florida's efforts to support the behavioral health workforce, LSFHS has provided student peers vast opportunities for employment, advocacy, education, and certification.
Peers support each other by increasing their connections with professionals in our service area while also expanding their reach beyond our region. As LSFHS' Peer Training Program evolves, people in recovery from mental health challenges and substance misuse disorders have a greater awareness of services and supports that are available to them through these connections. The peers trained in the program will take skills learned and apply them to their own personal recovery as well as to the needs of others.
LSFHS was recently awarded a 3rd HRSA grant opportunity, the Opioid Impacted Family Support Program (OIFSP), allowing LSFHS to continue offering the CRPS training program in addition to adding a Certified Recovery Support Specialist (CRSS) training program. With this addition, peers will have the opportunity to gain a dual certification in CRPS and CRSS, participate in a unique apprenticeship program, and open the doors for opportunities of development and advancement. The OIFSP grant will prepare the workforce to address the opioid crisis by continuously involving peers who work with clinicians and other professionals with our system of care. This integration of peers with lived experience and individuals who have a passion to enter the behavioral health workforce will have a positive impact helping people in recovery.
LSFHS' Training Institute continues to be the driving force as we educate peers about recovery, holistic approaches, wellness, self-care, and advocacy. Education combined with experience beyond the classroom – the opportunity to learn from others who have been where they are – is a great catalyst for a peer.
If you are interested in becoming a part of the behavioral health apprenticeship program at LSFHS, contact us at peer.network@lsfnet.org.